iWORX Comprehensive Pipeline Corridor Monitoring Software
Publish Date:2019-10-30
System overview
IWORX comprehensive pipeline corridor monitoring software is a product independently developed by HITE from its years of experience in engineering projects. Through cooperation with software & hardware systems for pipeline corridor automation, it can monitor the pipeline corridor's subsystems continuously and reliably for 24 hours. One platform alone can connect all equipment, sensors, controllers, servers, etc., unifying software platform reduces the complexity of operation and maintenance, making operation and maintenance easier; incorporating sales, production and environmental control to reduce internal friction and improve efficiency; and breaking software bottleneck, and enabling optimization, early warning, thus reducing the cost. The data platform can provide solutions for the integration of industrial production environmental control system and comprehensive municipal projects, and finally realize the digital and intelligent comprehensive management of the pipeline corridor.
System composition
iWORX Comprehensive Pipeline Corridor Monitoring Software adopts an integrated configuration mode. Through a multi-level system architecture, one platform alone can connect the software and hardware systems such as sensors, controllers, actuators, databases and third-party platforms of the pipeline corridor. Through convenient visual application development designers and flexible service logic configuration functions, the highly customizable pipeline corridor management system is realized.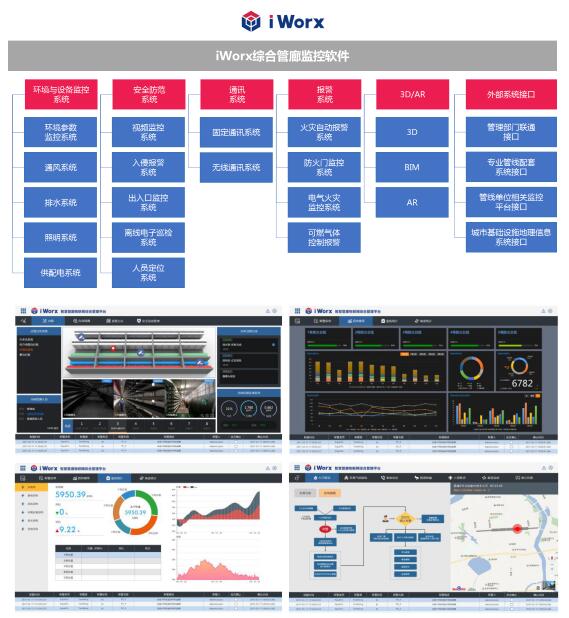 Main features of the system
It can enable digital management, coordinated responses at multiple levels, and automatic environmental control of the pipeline corridor, reducing number of monitoring personnel, improving management efficiency, and reducing the comprehensive management cost of the pipeline corridor.
Through various data acquisition ports, dynamic acquisition of various software and hardware monitoring information of the pipeline corridor can be realized, which enables real-time analysis, early warning and statistics of data;
Through the equipment control interface, the system enables intelligent automatic control of tunnel fans, lighting equipment, water pumps, etc. It not only meets the environmental management requirements of the pipeline corridor, but also reduces energy consumption and improves economic benefits.